Trends and public perceptions in the spotlight: on September 4, 2023, the Institute of Public Policy (IPP) will present the results of the Public Opinion Barometer.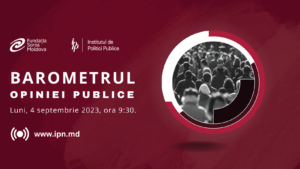 The Institute of Public Policy (IPP) announces the public presentation of the results of the most recent edition of the Public Opinion Barometer (BOB), which includes data obtained in July – August 2023. The event will take place at the IPN News Agency on Monday, September 4, 2023, at 9:30 AM. This edition of the BOB is financially supported by the Soros Foundation Moldova, reflecting the commitment of both organizations to a deep understanding of public opinion in the Republic of Moldova.
The upcoming survey continues the tradition of exploring essential topics for citizens within a complex political and social context. The survey addresses subjects such as political preferences, popularity and trust levels in major parties and political figures, perceptions of the standard of living and quality of life, analysis of the state's economic and social policies, as well as developments in foreign policy. Additionally, the BOB covers other major themes of public interest.
"Regrettably, the question regarding the conflict in Ukraine and the attitudes of the citizens of the Republic of Moldova towards it remains pertinent. Another significant topic explored in the current edition of the Public Opinion Barometer pertains to the justice reform in the Republic of Moldova, the level of corruption, and how citizens perceive changes in the judicial system of our country," mentioned Arcadie Barbăroșie.
The data collection process was rigorously managed by the Center for Social Studies and Marketing "CBS-Research," while the detailed analysis was carried out by experts from the Institute of Public Policy. The "Public Opinion Barometer – 2023" program was supervised by a select jury, led by Dr. Arcadie Barbaroșie, Executive Director of IPP. Among the jury members are Dr. Habilitat, Prof. Ludmila Malcoci, Regional Director of KHSI for Central and Eastern Europe and Executive Director of Keystone Moldova, Igor Boțan, ADEPT Director, Victor Ciobanu, independent expert, Mariana Calughin, legal expert, and Vitalie Călugăreanu, journalist.
The survey was conducted on a representative sample of 1,200 individuals from 85 localities in the Republic of Moldova, excluding the Transnistrian region. The maximum survey error is ±3%, ensuring a high level of precision in reflecting public opinion.
IPP eagerly anticipates sharing the results of this edition of the Public Opinion Barometer with the media, decision-makers, politicians, and the general public. This study offers a detailed overview of the attitudes and perceptions of the population in the Republic of Moldova, thus representing a valuable resource for understanding social and political developments in the country.